Heating
Radiant Heating System
Radiant heating systems supply heat directly to the floor or to panels in the wall or ceiling of a house. The systems depend largely on radiant heat transfer -- the delivery of heat directly from the hot surface to the people and objects in the room via infrared radiation. Radiant heating is the effect you feel when you can feel the warmth of a hot stovetop element from across the room. When radiant heating is located in the floor, it is often called radiant floor heating or simply floor heating.
Radiant heating has a number of advantages. It is more efficient than baseboard heating and usually more efficient than forced-air heating because it eliminates duct losses. People with allergies often prefer radiant heat because it doesn't distribute allergens like forced air systems can. Hydronic (liquid-based) systems use little electricity, a benefit for homes off the power grid or in areas with high electricity prices. Hydronic systems can use a wide variety of energy sources to heat the liquid, including standard gas- or oil-fired boilers, wood-fired boilers, solar water heaters, or a combination of these sources. For more on the different types of energy sources and heat distribution systems for home heating.
Call us today for more information regarding radiant heating systems.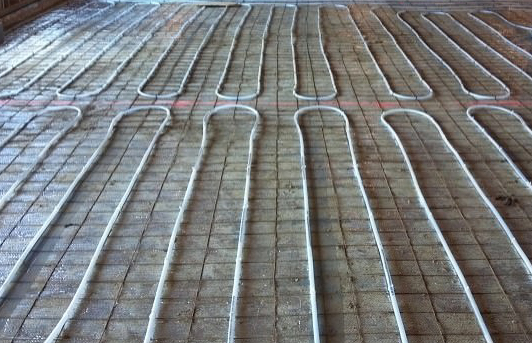 CONTACT US
How can we help you?